Better Pricing Means Bigger Profits
Your product is only part of the equation...
You were told that big profits require hard work, massive advertising campaigns and huge investments
It's all a lie. The most effective and efficient path to business success is an optimized pricing and monetization strategy.
Pricing is the most powerful strategic lever that any company will ever discover. More effective pricing yields higher profits, superior customers, and improved cash flow.
Clues that your pricing strategy is costing you:
You can't explain how you selected your prices

- Your prices should come from an analysis of your goals, your competition, your customers and your product.

You chose your prices based upon your costs

- Your costs are sunk. Your customers don't care how much money you spent developing your offerings. They care about the value that you provide.

You copied a competitor's pricing

- Are you selling the exact same product as your competitors? Are your business goals the same too? How about your reputation? Even if your competitors are similar to you, there's a good chance that they didn't put much thought into their own pricing strategies.
How can I help?
Although each engagement is tailored to my client's needs, my offerings generally entail one or more of the following:
Monetization & Marketplace Analysis

: I'll investigate your offerings and produce a playbook for you to improve your pricing and business strategy.

Mentoring

: I'll guide you through the pricing journey and help you discover your ideal pricing strategy.

Classes & Workshops

: I'll teach you the major concepts in pricing so that you can improve your profitability.
The pricing process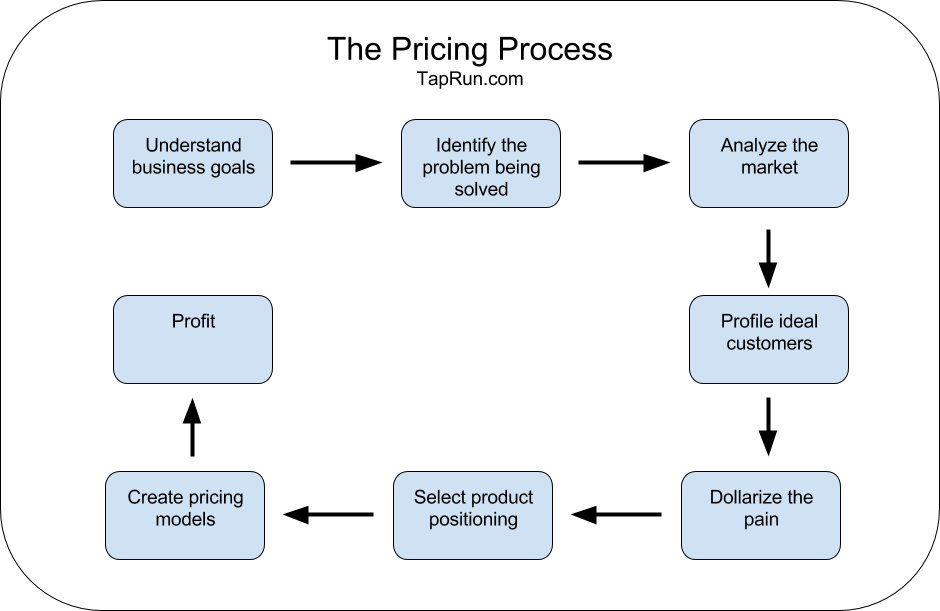 A little about me...
Operated this consultancy since 2014
Helped companies big (Fortune 500) and small with strategy, proposals and plans
Authored one of the only books on software pricing
Earned some fancy letters after my name:

Master's degree in business administration (MBA)
Master's degree in software engineering (MSE)
Project management professional certification (PMP)

Write one of the world's biggest blogs on pricing & monetization
Still not convinced?
Answer these 10 questions about your current monetization strategy, and receive a tailored strategy document outlining actionable steps that you can take to improve your business.
No email address required.
Ready to talk?
Contact me, and we'll move forward.